Històries elèctriques
An electronic music show for kids and youngsters featuring self-made instruments and performative illustration (live animation).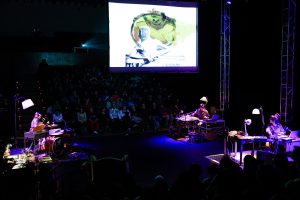 We had the privilege to create a show for L'Auditori, in Barcelona, with three professional musicians playing our instruments and amazing Pere Ginard's visuals with Teatrillu.   Raquel Garcia Tomàs played the Tubavox and the Samplematic,  Pablo Carrascosa was on the Ondes Sackbut and Paula Piñero on percussion.  The music was specially composed for the occasion by Raquel, Pablo and Xavier Bonfill.  On top of that, José Malaguilla brilliantly conducted the show improvising according to the public's request.  Joan Maria Segura took care of the direction of the show and Mercè Luchetti beautifully decorated the scene.
It was quite an experience.
Pictures courtesy of Berta Alarcón.
Links:
L'Auditori – Històries elèctriques 2016 https://www.auditori.cat/ca/histories-electriques
L'Auditori – Històries elèctriques 2017 https://www.auditori.cat/ca/historiesfam
L'Auditori – Històries elèctriques 2018 https://www.auditori.cat/ca/histories-electriques-17-18
L'Auditori – Històries elèctriques 2019 https://www.auditori.cat/es/previa-h-electricas